10 March 2016
In a new era of official nastiness, it's suddenly a crime to be homeless
by John Harris
Instead of addressing the causes of homelessness, local authorities are using public space protection orders to displace, fine and punish the vulnerable.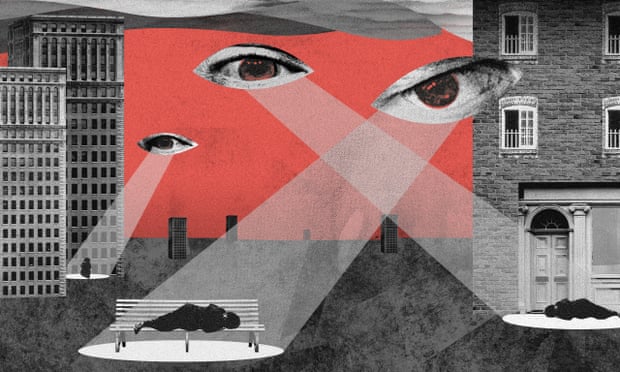 'All over the country, police and local councils are criminalising begging and rough sleeping, seemingly trying to push such mounting problems out of sight.' Photograph: Nate Kitch
A week ago, a case involving a homeless man called Ashley Hackett was thrown out of court in Brighton. He had been arrested by a plain-clothes police officer for asking a passer-by for 10p, an episode that triggered reports about Sussex police arresting 60 people on similar grounds in 2015 alone.
The story exploded in the pages of the Brighton Argus: local MP Caroline Lucas said she could not see "how criminalising desperate people for begging is helpful"; 30,000 people signed a petition decrying the policy responsible – and then, in the final denouement, prosecutors decided that the case was not in the public interest, and a district judge called time on the whole pathetic affair. In among the small print, there lurked truly Kafkaesque details, such as Hackett's lawyer's insistence that "he pleaded not guilty to begging because the offence says you've got to place yourself in that location to beg. He says he's homeless and that's where he lives."
Unfortunately, the end of that case will probably have no effect on a monstrous shift in policy and official attitudes towards homeless people being rolled out around the country. As in-depth reporting in the Guardian this week has highlighted, rough-sleeping in England is up nearly a third year-on-year, and the figures have doubled since 2010: a plainly shameful fact that underlines the sense of a government locked into a grim re-enactment of the 1980s. Meanwhile, all over the country, police and local councils are criminalising begging and rough sleeping, seemingly trying to push such mounting problems out of sight.
Which brings us to a particularly horrible policy instrument known as public space protection orders (or PSPOs), brought in by the coalition government in 2014. As with New Labour's antisocial behaviour orders, this new legal invention creates opportunities to criminalise hitherto non-criminal behaviour – but instead of Asbos' focus on individuals, PSPOs are defined by particular areas.
The basic idea is simple enough. Designate a particular area, specify the behaviour you want to outlaw, and you're off. In certain areas of Nottinghamshire, Bassetlaw's Labour council has prohibited people under 16 "gathering in groups of three or more"; in Hillingdon, the Tories who run the borough have criminalised feeding pigeons in the park and, for young people in certain places, "gathering in groups of two or more persons unless going to or from a parked vehicle or waiting for a scheduled bus at a designated bus stop". Obviously, those actions look comically draconian. But when PSPOs are applied to homeless people, the sense of punitive nastiness goes off the scale.
We are essentially talking about the policy equivalent of those spikes now affixed to modern buildings as a matter of course, in case anyone thinks of bedding down for the night. In Folkestone in Kent, a PSPO covers drinking, rough sleeping and begging; the latter is also a potential criminal act in Corby, Swindon and Oxford (where the council says it only applies to "aggressive" begging, though that includes simply asking for money near a cashpoint). In Wrexham, similar sanctions now apply to sleeping in a town centre park. Failure to comply entails a possible on-the-spot fine of £100 – this is for homeless people, let's not forget – and, if the case goes to court, a penalty of up to £1,000. It is seemingly too early for cases to start colliding with the judicial system, but when they do, the waste of public money and chaotic fallout will speak for itself.
Nonetheless, the idea is catching on. Recent Freedom of Information requests by the Vice website discovered that at least 36 local councils in England and Wales "have introduced or are working on PSPOs which criminalise activities linked to homelessness". In some places, there has been loud controversy about what is afoot: protests in Exeter, a U-turn in Newport, and another successful campaign in Hackney, east London, that last year forced the councilto back down.
But all too often there's a sense of dull inevitability: in the absence of any real local or national scrutiny, councils do what they like, and no one really cares. Put another way: these days, if something happens in Corby, Swindon or Wrexham, can it really be said to have happened at all?
Moreover, as the Brighton case proves, the story runs much wider than PSPOs. Aside from London and Bristol, the city I visit most often is Manchester, where rough sleeping has exploded and, despite a more enlightened attitude to homeless people than you see in some other places, the city council and local landlords spent some of 2015 locked into an on-off game of injunctions, clearances, and ongoing bad feeling.
As a dry space long used by homeless people was suddenly cleared and fenced off – which is how it remains – and protest camps set up by homeless people spread across the city, the council won an injunction against anyone pitching a tent, which went as far as listing the items (sleeping bags, cardboard boxes) that were still permitted, and led to homeless people facing fines of up to £5,000. When I last visited, a new canvas encampment had sprung up on land owned by Manchester University, close to Piccadilly station: a fragile mini-shanty town, symbolising the fact that in the surrounding regenerated wonderland, scores of homeless people seem to have been reduced to an inconvenience.
At the heart of all this, there is often a kind of municipal Trump-ism, whereby police and crime commissioners, senior officers and politicians of all parties affect a crass language of crackdowns and zero tolerance, while doing little to get to grips with the actual issue. Obviously, they can account for their actions in terms of austerity: if average local authority funding for services helping people avoid homelessness was cut by 45% between 2010 and 2015, and homelessness and rough-sleeping are reaching such uncontrollable heights, what else can they do?
The answer to that is simple enough: whatever your intentions, once you start blankly criminalising people who need serious and wide-ranging help, you surely risk shutting down any argument for that kind of assistance ever returning. Fines and arrests back up the rightwing idea of character failure; George Osborne sleeps that bit more easily.
Here, though, is perhaps the most awful aspect of what's happening. If the official attitude to people who sleep on the streets looks like cold contempt, we shouldn't be all that surprised if that is reflected not just in public indifference and hostility, but in outright acts of inhumanity.
Back in Brighton, this week brought news of a homeless man suffering burnsafter his sleeping bag and cardboard shelter were set on fire. Vulnerability to violence is often at the heart of living without a home: if we reduce people to being annoying untouchables, maybe that's the kind of terrible thing that will happen more often.