Ask your MP to oppose toxic EU-Canada deal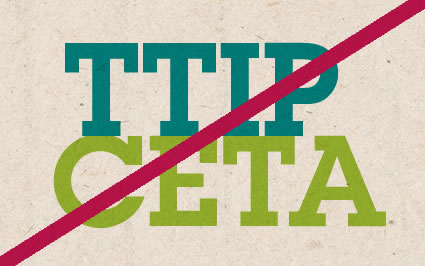 A trade deal as dangerous as the Transatlantic Trade and Investment Partnership [TTIP] has been agreed between the EU and Canada, and is about to come into force.
The EU commission is trying to fast-track this deal so it becomes law before Parliament has scrutinised it in Westminster. We need stop this happening to avoid serious consequences for our democracy and public services.
WHAT IS CETA?
Just like TTIP, the Comprehensive Economic and Trade Agreement [CETA] will give corporations new powers to sue governments through special corporate courts. And even if the British parliament rejects CETA, these corporate courts could remain active for several years.
CETA's 1,600 pages show us that it's a threat not only to our food standards, but also to the battle against climate change, our ability to regulate big banks to prevent another crash and our power to renationalise industries. 
Public services are particularly at risk because the deal will make it more difficult for future governments, national and local, to prevent Canadian companies from taking over public services in the EU.
WHY WE NEED TO ACT NOW
CETA has already been agreed by the European commission and the Canadian government and it now awaits ratification over the next 12 months.
We believe CETA should be stopped. But it's a race against the clock.
CETA could take effect in Britain early next year without a Westminster vote. We could face a 'corporate court' case from Canadian multinationals before our parliament has had the chance to agree to the deal – or throw it out.
Email your MP and get them to sign Early Day Motion 165 on CETA.

LEARN MORE ABOUT CETA