06 January 2017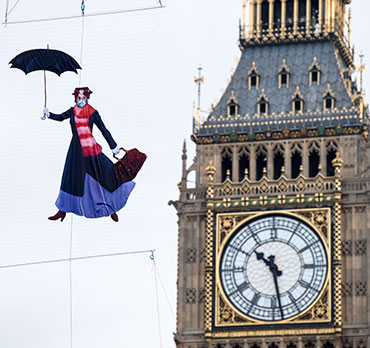 it's January 6th. We're a week into 2017, and the UK has just breached its air pollution limit for the entire year. [1]
This isn't ok. Nearly 70,000 people are calling on the government to get this deadly pollution under control. Will you join in?
Toxic diesel exhaust fumes harm children's lungs and cuts short thousands of lives [2], but the government isn't doing enough to fix the problem. In fact they're not even close.
So we've brought back an old friend to make sure today's shocking breach can't be ignored. Helped by a crew of Greenpeace activists, Mary Poppins is flying over Parliament today, reminding politicians that their inaction is costing lives.
Dirty air isn't just a big city problem. Last year, people in 169 different places in the UK – from Calderdale to Caerphilly – breathed illegal levels of pollution. [3]
Lots of things contribute to this crisis, but there's one obvious place to start – the thousands of new diesel cars rolling onto our roads every day. Diesel cars were sold as a green choice, but carmakers lied about how much they pollute. [4][5]
We shouldn't penalise people who bought diesel cars in good faith. But we can stop putting more of them on the roads. If companies can't make these cars meet proper pollution standards, they shouldn't be allowed to sell them.
It's time to stop the sale of new diesel cars, and make sure cleaner options are in everyone's reach. Nearly 70,000 people are calling on the government to make it happen – now's your chance to get on board.
We can do this. Paris, Madrid, Mexico City and Athens have already committed to phasing out diesel cars altogether. [6] And the UK government admits that air pollution is a problem, but they won't properly deal with it unless they feel some pressure. That means making lots of noise on days like today, when the scale of the problem really stands out.
Like all the best stories, Mary Poppins teaches and inspires us. She's an invitation to search for our best selves, and a reminder to care for those around us – especially children. And as a new year dawns full of fresh promise and old problems, we need her example more than ever.
Let's make air pollution a thing of the past. The movement for clean air is growing, but we need to step it up. Will you add your name?
SIGN THE PETITION
Tell Theresa May to:
Cut toxic emissions. Ban sales of new diesel cars in the UK.