Dear Paul,
What a couple of weeks it's been for EU-Canada trade deal CETA – the deal became the focus of world news as it was temporarily blocked by Belgian regional governments, led by the now famous Walloons. Bear with me – this is quite a long letter but there is a lot to update you on!
Activists and campaigners like you were at the heart of this amazing work. We know that your letters to MEPs are working – they have spoken about hearing many concerns about CETA from their constituents. And while the EU and Canada went on to sign the deal in a meaningless ceremony for the cameras, the damage dealt to CETA may well be a killer blow.
In the next few months we have a couple of crucial opportunities to ensure that CETA is condemned to history – UK trade secretary Liam Fox confirmed last week that there will be a CETA debate for MPs in Westminster this year, and the whole deal is scheduled to be voted on by the European Parliament on February 14, 2017.
Stay tuned, as we'll soon have new materials and actions for you to use to contact MPs about the CETA debate in the UK, and MEPs for the CETA vote in the European Parliament.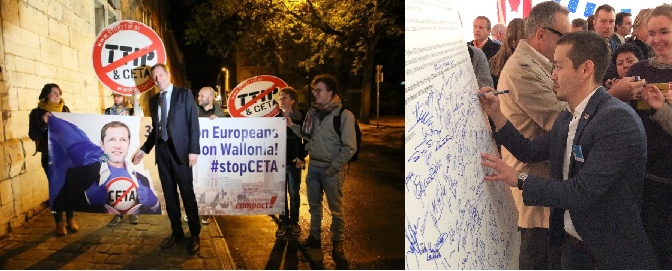 We were in Brussels over the past weeks to follow CETA up close. Belgian concerns reflected those of the 3.4 million people across Europe who signed a petition against CETA – and opposition is still strong  in governments in Germany,  Austria and Poland, across the European and Canadian trade union movement and among UN human rights experts.
As we have explained, CETA spells bad news for EU jobs, growth and trade, it has helped destroy critical EU climate change laws, and its 'corporate court' mechanism means EU governments could be sued by tens of thousands of North American corporations. Worse still, trade secretary Liam Fox admitted that he bypassed normal parliamentary scrutiny in order to help force the deal through.
But Belgium now says it will not be able to seal CETA without changes to its corporate court chapter – both sides refuse to re-open the deal's text – and that if any regions oppose CETA, it cannot ratify the deal. And in Germany  a court ruling has put some strong legal barriers to CETA going ahead.
CETA remains in big trouble – and with it, so too is the EU's whole corporate-led trade agenda. Your campaigning and activism has brought us this far, and it can bring us the new trade agenda we so badly need!
In solidarity,
Mark Dearn